MH370 Flight Path Model version 13.5d
by Richard Godfrey 
2015 May 28th
A previous post on May 10th made available my MH370 path model version 13.5. Since then three minor errors have been identified, and the present post rectifies those within my path model version 13.5d, which is available for download from here (2.46 MB).
My Independent Group colleagues Sid Bennett, Geoff Hyman and Barry Martin (hereafter SGB) recently published their MH370 path investigation studies showing various flight paths, with and without a lateral offset, with and without a climb and with and without cancellation of the lateral offset. In my path model V13.5d I have replicated their path labelled as D (hence the nomenclature), which includes a lateral offset and a small climb near 18:27 UTC, with a cancellation of the lateral offset near waypoint ISBIX.
This V13.5d provides for an exact fit to the BTO values and a good fit to the BFO values including those at 19:41 and 23:15. The overall RMS BFO error value is 2.49 Hz for the eight values between 19:41 and 00:19. The point reached at 00:11 in V13.5d is 36.09S 90.0E, compared to SGB's 36.23S 89.66E for their path variant D.
In the diagram below I show the various locations indicated for 00:11 UTC, and it can be seen how close the various calculations are in terms of end locations. My colleagues' points SGB-A through SGB-E are close to my V13.5a. My V13.5b is a little further southwest, and V13.5d a little further northeast, on the 6th (blue, here) arc which pertains to 00:11 UTC and a substantial (i.e. cruising) altitude.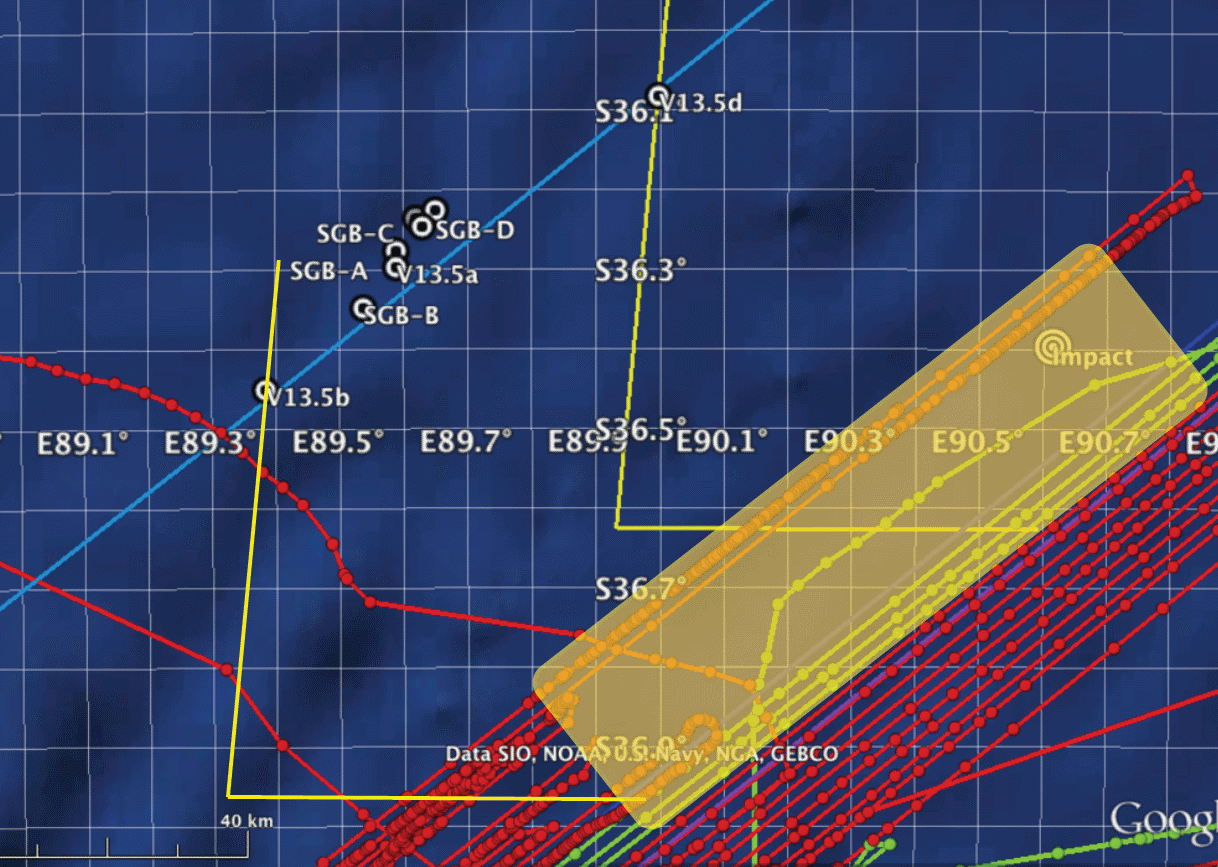 The key take-away here is the implication for the SIO search area. The area marked in yellow is around 100 km in length and 30 km in width, and has hardly been searched yet (cf. red lines showing search ship paths that have been followed so far). This yellow-shaded area lies between 36.3S and 36.9S and just inside the 7th arc at sea level. My 'impact location' based on V13.5d is as shown in the above map.